TREATMENT FOR RISING DAMP – SALTPETRE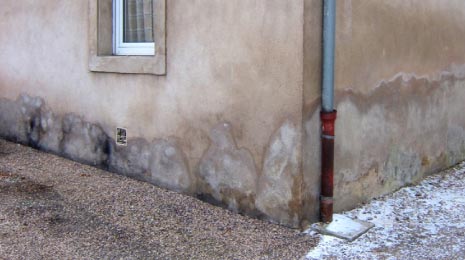 Rising damp refers to the humidification of walls by the water present in the soil. This rising water is directly dependent on the porosity of the materials of which the walls are composed: mortar, plaster, brick, concrete, etc.
Untreated, rising damp can result in the appearance of saltpetre and the detachment of the coatings covering the bottom of the walls.
Treatment for rising damp
In order to avoid any aggravation, walls affected by the humidity must be given a specific treatment: a water-repellent product is injected at the base of the wall. This injection creates a horizontal barrier in the wall, which prevents rising damp.
Hydrotec offers an odourless and non-toxic treatment. We use mainly CRD Gel and H10eco Microemulsion. These two products are composed of silane-siloxane resins, in aqueous phase (without hydrocarbons).
Walls on the ground floor and in the cellars
In older buildings
In new houses when the waterproofing of the bottom of the walls has not been properly carried out
Degradation of paintwork
Separation of wallpaper
Crumbling of plasterwork
Peeling of baseboards
Appearance of saltpetre (white crystals, whether or not agglomerated)
WHY DO IT?
– Guarantee a permanently dry and sound wall on the ground floor level of a dwelling.
– Guarantee: we guarantee the damp treatment for 30 years.
– Hydrotec has teams of specialized, methodical and well-equipped technicians for this type of activity.
THE INJECTION TREATMENT STEPS
Preparation of the site: Stripping of affected and often unrecoverable ceiling
To enable the removal of saltpetre (nitrates, chlorides, sulphates)
To allow the evaporation of the moisture
Drilling according to the thickness of the wall
Injection of the product into the wall:
Injection under controlled pressure of a product creating a barrier that definitely prevents rising damp in the walls.
The drying of the walls is observed 4 to 12 months after the treatment:
The drying of the walls is observed 4 to 12 months after the treatment: Application of a physical barrier against saltpetre after treatment to prevent the re-emergence of residual salts in the new decoration. Depending on the case, the barrier will consist of a coating applied as a basecoat (Hydro+) or a plaster membrane (HY-N3)