CLEANING UP YOUR HOME AGAINST CONDENSATION AND MOLD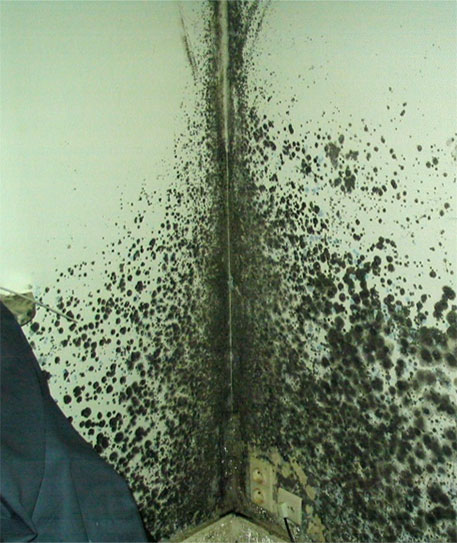 The term "mould" refers to several kinds of fungi whose spores are present in the air. Mould often appears in the form of round green, brown or blackish spots on walls, bags, shoes, leather clothing, clothes locked in closets, behind the furniture …
These spots are most often seen in the corners of rooms, bathrooms, at the bottom of windows, or where walls, lintels and ceilings are not properly insulated, that is, colder (thermal bridges). Mould is almost always the result of a condensation problem, i.e. a non-evacuated moisture production in the house. The vapour may be caused by people (by breathing we expel 25 cl of water per night), or by human activity (cooking, taking a shower, drying laundry, etc.)
Our teams can help you detect the source of any condensation problems. Once the diagnosis has been made, we propose appropriate solutions for the affected rooms . In some cases, simple ventilation advice will suffice, in others we will install a specific ventilation device.
Concerning condensation:
In damp rooms: bathroom, kitchen, bedrooms
Poorly ventilated places (cellars, etc.)
On poorly insulated walls or panels
Le phénomène de condensation se produit dès qu'un taux d'humidité trop élevée est dégagé dans l'air d'un local.
Ce problème s'accentue en hiver ou lors de changements brusques de température.
Apparition de buée sur les vitres, murs et sols lors de changement climatiques saisonniers.
Apparition de moisissures.
WHEN
Condensation occurs as soon as excessive humidity is released into the air of a room.
This problem is accentuated in winter or during sudden temperature changes
Appearance of mist on windows, walls and floors during seasonal climatic changes.
Appearance of mould
WHY DO IT?
– Avoid visual degradation of your walls
– Protect yourself from the harmful effects of mould on your health: Spores released into the air by mould can cause irritation and allergies in the most vulnerable people: seniors, children, people with weakened immune systems or breathing problems.
1.Problem detection and diagnosis
2.Installation of aeration or ventilation equipment suitable for:
the room and its role in the home

the ambient humidity level

the requirements in terms of ambient temperature (to avoid energy losses, a system with a heat recovery unit should be preferred)

the acoustic constraints: silent systems for the bedrooms, living room, etc.